Ayomide Emeka Joseph
Guest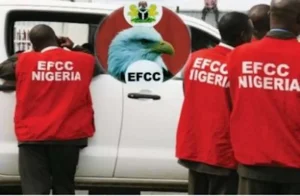 Chairman of the Economic and Financial Crimes Commission (EFCC), Ola Olukayode, has implored Nigerian Students to steer clear of internet fraud.​
Speaking at the launch of an Integrity Club at Doveland International Schools in Abuja, Olukayode said that corruption is a nasty habit that shouldn't be permitted to flourish in our society.
Naija News
reports that Olukoyede, who spoke through DCE Nwayinma Okeanu, Deputy Director of Public Engagements of the Commission, stated that internet fraud, examination malpractice and stealing were corrupt acts that should not be condoned.
"Corruption is an evil and bad practice which we should not allow in our environment. You should know that every act of corruption is evil, and must not be entertained. Lying, examination malpractices, internet fraud, stealing pens and pencils, books and any other thing that does not belong to you is corruption",
she said.
Speaking at the event, Aisha Mohammed, the Head of the Enlightenment and Reorientation unit of the commission, ACE II, asked the students to shun corruption in all its forms and work together with the EFCC to eradicate it from Nigeria.
"We in the EFCC understand the gravity of corruption and we cannot win this fight alone. You are the future leaders of the country, and as future leaders; you need to know what corruption is at this tender age, and be able to combat it. We also need you to be our ambassadors and foot soldiers by spreading the message of anti-corruption to the larger society,"
she said.
The post
Stay Away From Internet Fraud – EFCC Chairman Tells Nigerian Students
appeared first on
Naija News
.