Rachel Okporu Fadoju
Guest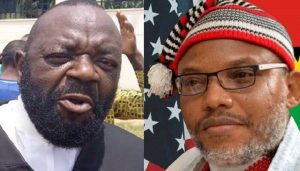 Aloy Ejimakor, special counsel to the leader of the Indigenous People of Biafra (IPOB), Nnamdi Kanu, has urged the Federal Government and Lagos State Government to stop making the country uncomfortable for the Igbos.​
Naija News
reports that Ejimakor made the plea amidst claims that the Lagos State government is targeting and demolishing markets populated by Igbos, including the demolition of buildings owned by the Igbos in the state.
One of those affected was former Super Eagles striker, Emmanuel Emenike, who claimed that the Lagos State government demolished his house despite getting due approval from relevant authorities.
In a post via X on Monday, Ejimakor asserted that it is cowardly to demolish the properties of the Igbos; instead, the Lagos State government or FG should conduct a Biafra referendum.
He wrote:
"If you want Igbos out of Lagos or Nigeria, stop #demolishing their properties; that's cowardly. Instead, do a referendum on Biafra and brace for the resounding result. Until then, stop turning Nigeria into an open-air prison for Igbos. From the pogrom to now, Igbos have had enough."
Meanwhile, the Indigenous People of Biafra (IPOB) has criticized the Department of State Services (DSS), accusing them of denying
Nnamdi Kanu
access to visitors.
In addition, IPOB condemned the DSS's assertion that the scarcity of personnel, attributed to the logistical demands of the Imo, Bayelsa, and Kogi state elections, played a role in restricting visitors' access to Nnamdi Kanu.
In a press statement, the pro-Biafran group conveyed its stance, asserting that the DSS is deliberately attempting to torment and create hardship for Nnamdi Kanu by denying him access to visitors.
The post
'Stop Turning Nigeria Into An Open-Air Prison For Igbos' – Ejimakor Tells FG, Lagos Govt
appeared first on
Naija News
.